CORONAVIRUS (COVID-19)
Lackawanna County is a vibrant and beautiful destination and we take great pride in spreading that message far and wide. The people and communities make Lackawanna County such a wonderful place to visit. During the current health crisis, travel and tourism must take a back seat to health and safety, and we fully support the decision to limit groups and cancel or postpone events. We will continue to share any information regarding upcoming events. We look very much forward to celebrating all Lackawanna County has to offer again very soon!
---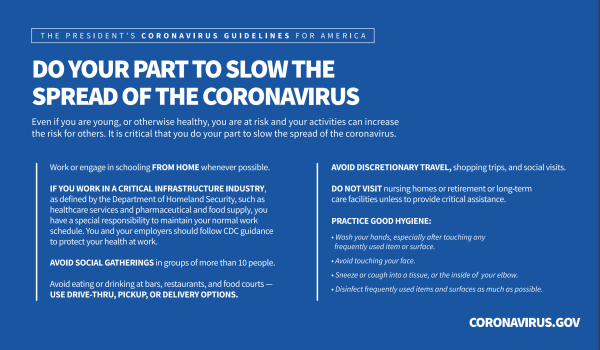 Please continue observing all recommended health and safety precautions recommended by the Centers for Disease Control and Prevention(CDC) and other public health authorities to prevent the spread of Coronavirus Disease 2019 (COVID-19). We urge visitors to follow the CDC's travel guidance. 
On March 13, the President of the United States had announced the Coronavirus a national emergency. It's pertinent we all participate in helping to slow the spread of the coronavirus by practicing social distancing. Please review The President's Coronavirus Guidelines for America, because we're all in this together!
Pennsylvania
Effective: Thursday, March 19, 2020 - 8 PM
Governor Tom Wolf ordered all non-life-sustaining businesses in Pennsylvania to close their physical locations to help slow the spread of COVID-19.
Businesses that offer carry-out, delivery, and drive-through food and beverage service may continue to do so, but eating and drinking inside restaurants and bars are temporarily prohibited. Essential businesses such as medical facilities, grocery stores, etc. will remain open. A list of life-sustaining businesses is here (updated April 1, 2020.)
Lackawanna County
Effective: Tuesday, March 17, 2020
The Lackawanna County Board of Commissioners has declared a "State of Emergency" in its continued attempt to safeguard the staff and the general public from the Coronavirus (COVID-19) and SARS CoV2. The Electric City Trolley Museum and all County parks and are closed until further notice. Please read Lackawanna County's full notice and review a variety of important/up-to-date medical and self-care data on how to combat the virus that is sweeping the globe.
TRAVELING THROUGH PA
Effective: Monday, March 16, 2020 - 8 PM
The Pennsylvania Turnpike Commission (PTC) will no longer accept cash and credit cards on its mainline ticket. All tolls will be assessed electronically via E-ZPass or the PA Turnpike TOLL BY PLATE program as vehicles travel at posted speed limits through tolling points.